-October 29th, 2012
Selling is thought of as a part of marketing, however, the two disciplines are completely different. The sales discipline often forms a separate grouping in a corporate structure, employing separate specialist who use the art of persuasion to sell products. Contrary to popular belief, the methodological approach of selling refers to a systematic process of repetitive and measurable milestones, by which a salesperson relates his or her offering of a product or service in return enabling the buyer to achieve their goal in an economic way.
Outdoor advertising can provide enormous service to a company's sales time by providing a media platform that can efficiently and cost-effectively communicate to consumers. Outdoor advertising sells products.
Why Outdoor Advertising Helps Sell Products
Helps the public find goods and services. American public opinion (80%) reflects that outdoor both help create jobs and help businesses attract customers (Charles Taylor)
Ninety percent of motorists depend on outdoor to provide helpful information for locating services such as gas, food and lodging, as well as retail outlets and tourist attractions. One out of every five dollars spent in outdoor is for travel and tourism.
Typically, five to ten percent of jobs in a community come from businesses advertising in outdoor media.
Outdoor is essentially a local ad tool (70%) strongly rooted in local economy, and it enables small businesses — the infrastructure of a community and the jobs engine of its economy – to connect with consumers.
For businesses in some small towns without a paper or local TV station, outdoor is the only local ad medium available to reach the public.
Outdoor reminds consumers that a brand is a good choice when the public is ready to purchase.
Contemporary social trends favor outdoor. It provides quick information to help busy, mobile individuals on-the-go make purchase decisions.
The segment of the population that will encounter interactive ad technology is highly mobile, technologically sophisticated, and likely to find the cutting edge outdoor technology exciting as well as useful.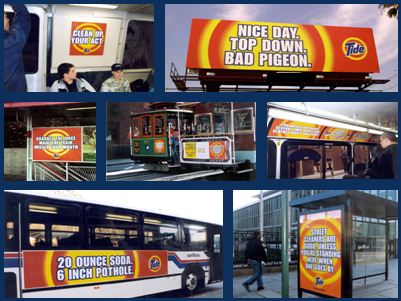 article source:http://campaign.r20.constantcontact.com/render?llr=cwdlyifab&v=0015qcJ7P_42YgLYQMKnXMtVSUzWGyGZlSpwhLm1ekPea_k3SnbBYHyLI9uznXAY-2BL3z5gpHjFWS6Z2l-p2yXdwZGT3p40TYilUTUR6WSuoU5FSj2kxkp75iU2q5q5AB10-f3NLyGkoI%3D