FBI Turned to Billboards to Aid in Boston Bombing Suspect Searc
A nation was devastated and afraid. Bombing suspects had been identified. The search was on. So how did the FBI get the word out for information on their whereabouts quickly and to as many as people at one time as possible? Along with social media, internet, and press: digital billboards.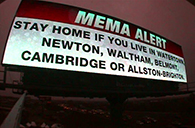 ABC News reported the use of digital billboards used to update photos of the suspects that are believed to have been the perpetrators of Monday's tragic bombing.
With thousands of people passing by these billboards daily, it can be an extremely effective method for notifying the public of the dangerous situation. The FBI updated billboards in surrounding cities and states in the event that the suspects attempted to flee: "[I]mages also were on billboards in Connecticut, Delaware, Maine, Maryland, Massachusetts, New Hampshire, New York, New Jersey, Pennsylvania, Rhode Island, Vermont, Virginia and West Virginia."
The FBI used digital billboards to post photos of the suspects, a tactic that helped to spread the awareness of the situation in the quickest way possible. It also helped to make the suspects aware of how quickly the FBI was able to work to identify them. As reported by ABC News, "'[L]ong story short: The billboards are working and working well. And that means a safer America for all,' the FBI wrote on its site at the time."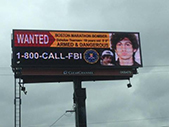 The advantage of digital billboards is that they can be updated as quickly as news is released. Though having "Wanted" signs flashing is not the optimal use for billboards, it does help to be able to send out a message quickly. Keeping the people aware of the developing situation was also helpful when the search began, as it kept people out of the way and safe when things were so uncertain.
The use of the digital billboards is an up and coming form of outdoor advertising. Billboards have been around for many, many years. Though digital billboards are not common in all areas of the country, they are helpful when news or a message needs to be spread quickly.
Billboard advertising is seen by thousands of people on a daily basis. Locals and out of town travelers can be updated and informed with a simple billboard message; or in this case, photos.